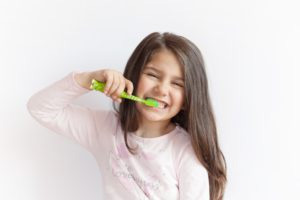 Showing your appreciation and affection for those you love isn't the only reason to celebrate in February. It's also Children's Dental Health Month, which is dedicated to raising awareness of the importance of good oral health for children. Although their baby teeth are only in place for a few years, they are invaluable to your little one's health and development. Research has found that good early oral habits can lead to a lifelong commitment to their smile. You can encourage great habits that will last for a lifetime by celebrating Children's Dental Health Month with 3 exciting oral hygiene products. 
1. Electric Toothbrush
Although cavities are almost always preventable, tooth decay in children is 5 times more prevalent than asthma. It's the most common childhood disease. Your child's toothbrush is their first line of defense against tooth decay, but it can be a battle to get them to brush their teeth. Many children skip brushing before bed or rush through their routine.
You can get your little one excited about brushing their teeth with a new electric toothbrush. They offer more brush strokes per minute to provide a better clean. Many also come with certain features, like timers and pressure sensors. You can find the perfect toothbrush for your child's needs.
Look for one that has soft bristles and accommodates the size of their mouth. It's best to choose from products that have earned the American Dental Association's Seal of Acceptance.
2. Oral Irrigator
Around the age of 6, the gaps between your child's teeth begin to close, which means it's time to introduce flossing. Adults aren't the only ones at risk of gum disease. With the infection linked to many health problems, it's important your little one develops good flossing habits; however, traditional floss can be difficult for small hands to use.
An oral irrigator can protect their gum health without frustration. It emits gentle pressurized water to remove food particles and plaque from the most difficult-to-reach areas in the mouth. Flossing will feel like less of a chore, so they are more likely to commit to daily flossing.
3. Mouthwash
A mouthwash can complement your child's oral hygiene habits by killing any remaining bacteria. They come in many flavors that your child will love. Look for one that contains fluoride to help strengthen their enamel to make it more resistant to decay. Also, look for the ADA's Seal of Acceptance, which means it has undergone voluntary testing for safety.
Your child will see that healthy teeth and gums are a reason to celebrate. Besides brushing and flossing, don't forget to schedule their cleaning and checkup every 6 months with their pediatric dentist.
About Dr. Adi Davidyan
Dr. Davidyan earned his dental degree from the Tufts University School of Dental Medicine and continued his education, focusing on orthodontics and dentofacial orthopedics. He is a proud member of many professional organizations, including the American Dental Association. Request an appointment through our website or call (413) 339-3078.