Traditional Braces - Western Massachusetts
Tried, True, & Tested
Uniform teeth contribute to better oral health, create stronger bites, and (of course) lead to a stronger sense of self-esteem. If you or your loved one is ready to take the plunge with braces in Western Massachusetts and finally correct those frustrating gaps and misalignments, you've certainly come to the right place here at Treehouse Orthodontics. We only use the highest quality brackets and wires, and no materials are EVER recycled from case to case. To schedule a one-on-one consultation, please contact one of our eight orthodontic office locations, including Northampton, Amherst, and West Springfield.
Why Choose Treehouse Orthodontics for Traditional Braces?
We See Ages 8 to 88!
Over 50 Years of Experience
Dental Insurance Accepted & Payment Plans Available
Traditional Braces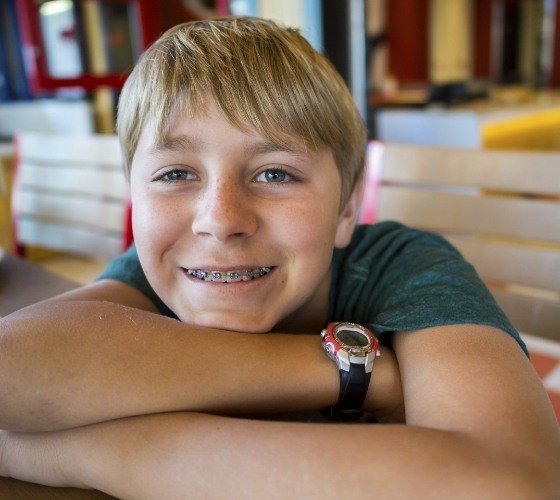 Traditional braces have been around for many years, and their effectiveness when it comes to correcting even the most severe orthodontic concerns is unquestioned. Children and adults alike are great candidates for this reliable treatment plan.
Construction-wise, braces have three distinct components. First, there are the brackets, which are directly bonded onto the surface of teeth; each bracket will have unique characteristics depending on its position and the goals our orthodontists hope to accomplish with its placement. Once the foundation is in place, it's time to add the catalyst – the archwire. Your orthodontic wire is attached to the brackets while bent. As it returns to its original shape, it will apply a consistent amount of pressure to the teeth and shift them towards their desired alignment. Finally, elastics will connect the brackets and archwire(s), and they come in a variety of fun and neutral colors that our patients can choose from.