Invisalign Clear Aligners - Western Massachusetts
Straight Smiles without the Metal
When caring for teenagers and adults, it's common for aesthetics to be a top concern here at Treehouse Orthodontics. While traditional braces are extremely good at straightening teeth, many patients simply can't accept the idea of wearing dark-colored brackets and wires for months (or even years) on end – and this is completely understandable! That's why we have alternative treatment plans waiting in the wings, including Invisalign® Clear Aligners. As the name implies, Invisalign is subtle, convenient, and ideal for patients who want to maintain a natural, confident appearance throughout their treatment. Please contact us today if you'd like to learn more about Invisalign in Western Massachusetts or schedule an appointment.
Why Choose Treehouse Orthodontics for Invisalign Clear Aligners?
Diamond Provider For Invisalign®
Clear, Removable Components – No "Metal Mouth" Required
Eight Convenient Orthodontic Office Locations
Invisalign® Clear Aligners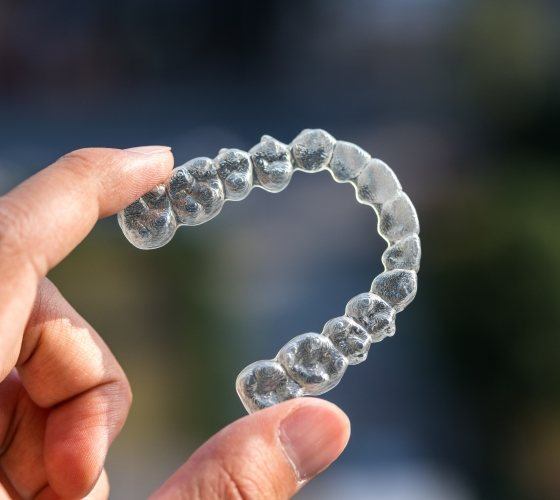 Invisalign Clear Aligners have transcended the age-old "bracket and wire" orthodontic system and instead use a series of clear, 100% customized aligners. Each aligner represents a different stage of the patient's smile as the teeth are gradually shifted, and the patient's job is to wear them as directed (usually for around two weeks each) before switching to the next aligner in their specific set.
Invisalign has several distinct benefits. The clear nature of the aligners makes them very difficult to spot in everyday life, and their removability is ideal for patients who would prefer to not have to make changes to their diet throughout treatment. The clear plastic material is also very comfortable in the mouth – no risks of "poking" wires developing over time.
In most cases, patients using Invisalign aligners will be finished with treatment in under 18 months. Patients with mild to moderate orthodontic concerns will be best suited for this type of treatment, while more severe misalignments may require traditional braces to effectively correct.
Invisalign® TEEN Clear Aligners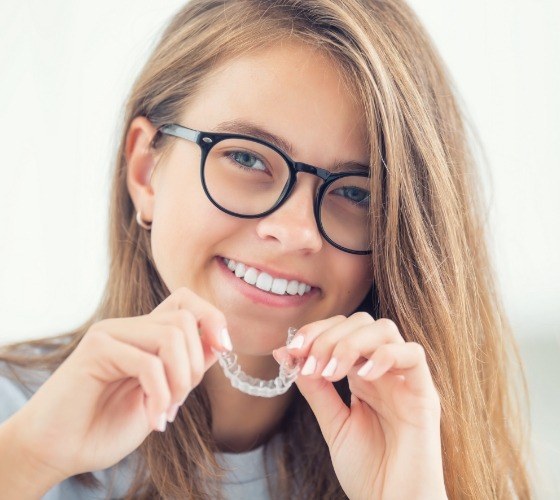 Invisalign TEEN is very similar to traditional Invisalign – it's just better suited to younger smiles! For example, this specific treatment plan comes with multiple replacement aligners because we know that teenagers are more likely to damage or lose them as they rush from activity to activity. Additionally, the aligners themselves have a slightly different design. There's a small dot that will change in color from blue to clear and eventually to white. These varying colors represent the lifespan of the aligner. Not only do they serve as good reminders for your son or daughter regarding when to switch out the aligner, but they'll also clearly show our team whether or not it's being worn properly in the first place.
Understanding the Cost of Invisalign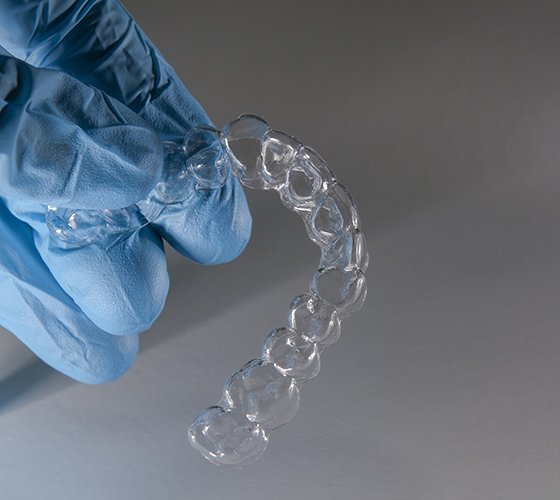 Invisalign is often attributed to an expensive price tag, but you don't have to be rich or famous to benefit from clear aligners. They are an affordable solution to fix a variety of bite and alignment issues. At Treehouse Orthodontics, we strive to keep a straight smile within everyone's budget. We offer the financial solutions you need to invest in the clear choice in orthodontics.
Factors That Affect the Cost of Invisalign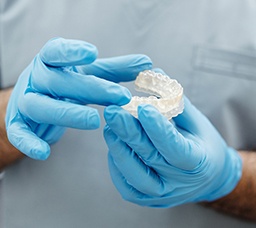 There's no flat fee for Invisalign because many factors affect the cost. Every mouth and situation differs, so there's no way to know how much you'll have to pay without first having a consultation. Although every case is unique, you can expect your estimate to be influenced by:
Preparatory Treatments: It's not unusual to require a little prep work before getting started with Invisalign, like a dental cleaning, filling, or gum disease therapy.
Complexity of Case: Major tooth movements will require more aligners to resolve, which will increase the cost.
Number of Arches: Treating both arches will affect the amount you'll pay, but it's unusual to only require aligners on the top or bottom teeth.
Invisalign vs. Smile Direct Club™: Which Costs More?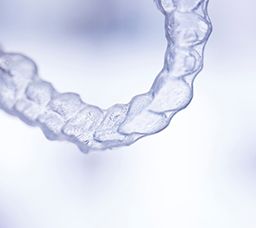 Mail-order aligners appear to be a convenient and cost-effective method to correct many bite and alignment issues, but there are major risks involved. From start to finish, you're never under the supervision of a dental professional. As a result, small problems go undetected until it's too late. Not everyone is a candidate for clear aligners, and the smallest miscalculation can cause irreversible damage, including tooth loss. When you visit a dentist, you're investing in experience and peace of mind knowing your smile is in good hands. Your dentist will create a personalized plan to fix your bite and alignment safely.
Does Dental Insurance Cover Invisalign?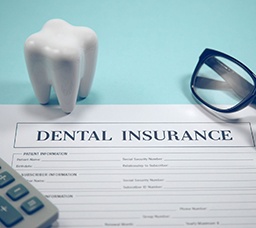 Dental plans that include orthodontics can be used to offset the amount you'll pay for Invisalign. Your benefits may cover your consultation, imaging, or printing procedures. Your insurance will pay a set amount for your aligners after meeting your annual deductible. A member of our office will work on your behalf with your dental insurance to maximize any appropriate coverage. They will explain how your benefits are being used and discuss your remaining balance.
Options for Making Invisalign Affordable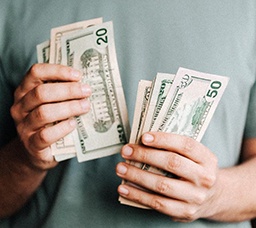 Your financial situation should not stand in the way of achieving your best smile. Besides using your dental insurance, we offer many other solutions to keep Invisalign affordable, including:
Traditional Payments: Our office accepts all traditional payment methods, like cash, personal checks, and credit cards.
Financing: You can pay any out-of-pocket expenses using a monthly payment plan through a third-party financing company, like CareCredit. You can enjoy little or no interest in financing based on your credit approval.
Invisalign FAQs
Invisalign in Western Massachusetts is a preferred orthodontic treatment for teens and adults. It is supported by decades of success, but it's a big investment. Our dentists at Treehouse Orthodontics understand you might have a few concerns about clear aligners. They will explain everything during your consultation, and here are the answers to the most frequently asked questions about Invisalign.
What Does Invisalign Look Like?
Invisalign aligners are made of smooth transparent plastic. Although you can see the aligners when holding them in your hand, they are very difficult to detect when worn over your teeth. Your aligners can maintain a discrete appearance with the right care, like using non-abrasive dental products to prevent scratches and cleaning them regularly. Don't eat or drink anything except water when wearing your aligners to prevent stains. If you need any attachments or buttons, they won't be clear like your aligners, but they will be tooth-colored to blend in with your smile.
Does Invisalign Hurt?
No orthodontic treatment is pain free, but many patients report Invisalign to be more comfortable than metal braces. It's normal for your teeth to be tender when first beginning your treatment and when switching to new aligners. Invisalign works by applying continual pressure to specific teeth to move them gradually. Any tenderness is a sign your treatment is working. It will become less frequent as you progress through your series of aligners. You can manage it by taking an over-the-counter pain reliever and eating soft foods. Since no brackets or wires are used, you won't have to worry about any irritation or sores on the inside of your lips or cheeks.
How Long Does Invisalign Take?
The average treatment plan with Invisalign takes 12 months, but every situation differs. Many factors affect your timeline, like your age. Teens' teeth move quicker than adults because they are still growing and developing. The complexity of your case will also affect how long you'll need aligners. Your dentist in Western Massachusetts will explain how many aligners it will take to reach your goals. You can ensure there aren't any delays by wearing your aligners for 22 hours per day and switching to the next set in your series every 1-2 weeks as instructed by your orthodontist.
Can I Use My Dental Insurance for Invisalign?
Dental plans with orthodontic coverage can be used to offset the cost of Invisalign. Your dental insurance may cover your consultation and any preliminary procedures. After meeting your annual deductible, your benefits can pay a portion of the expense until reaching your yearly limit. A member of our team will work on your behalf with your dental insurance to maximize your benefits to lower your out-of-pocket expenses. They'll explain how your coverage is being used and your payment options for any remaining balance, like monthly payments with CareCredit.