Invisalign Clear Aligners - Western Massachusetts
Straight Smiles without the Metal
When caring for teenagers and adults, it's common for aesthetics to be a top concern here at Treehouse Orthodontics. While traditional braces are extremely good at straightening teeth, many patients simply can't accept the idea of wearing dark-colored brackets and wires for months (or even years) on end – and this is completely understandable! That's why we have alternative treatment plans waiting in the wings, including Invisalign® Clear Aligners. As the name implies, Invisalign is subtle, convenient, and ideal for patients who want to maintain a natural, confident appearance throughout their treatment. Please contact us today if you'd like to learn more about Invisalign in Western Massachusetts or schedule an appointment.
Why Choose Treehouse Orthodontics for Invisalign Clear Aligners?
Diamond Provider For Invisalign®
Clear, Removable Components – No "Metal Mouth" Required
Eight Convenient Orthodontic Office Locations
Invisalign® Clear Aligners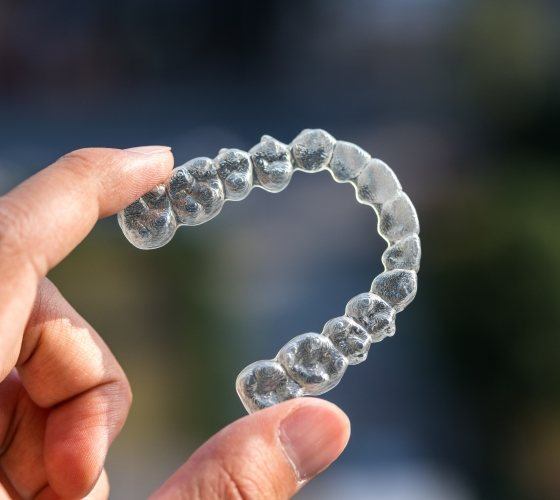 Invisalign Clear Aligners have transcended the age-old "bracket and wire" orthodontic system and instead use a series of clear, 100% customized aligners. Each aligner represents a different stage of the patient's smile as the teeth are gradually shifted, and the patient's job is to wear them as directed (usually for around two weeks each) before switching to the next aligner in their specific set.
Invisalign has several distinct benefits. The clear nature of the aligners makes them very difficult to spot in everyday life, and their removability is ideal for patients who would prefer to not have to make changes to their diet throughout treatment. The clear plastic material is also very comfortable in the mouth – no risks of "poking" wires developing over time.
In most cases, patients using Invisalign aligners will be finished with treatment in under 18 months. Patients with mild to moderate orthodontic concerns will be best suited for this type of treatment, while more severe misalignments may require traditional braces to effectively correct.
Invisalign® TEEN Clear Aligners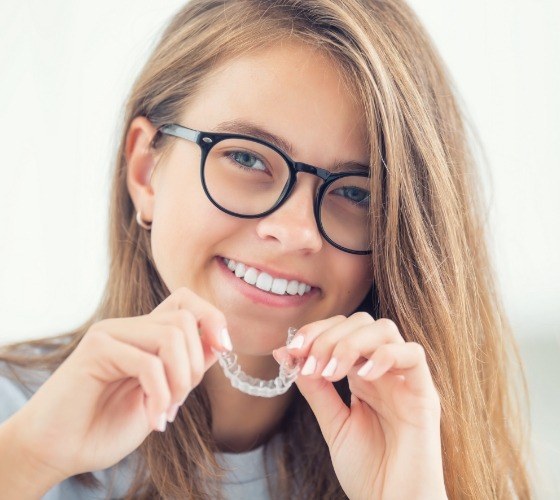 Invisalign TEEN is very similar to traditional Invisalign – it's just better suited to younger smiles! For example, this specific treatment plan comes with multiple replacement aligners because we know that teenagers are more likely to damage or lose them as they rush from activity to activity. Additionally, the aligners themselves have a slightly different design. There's a small dot that will change in color from blue to clear and eventually to white. These varying colors represent the lifespan of the aligner. Not only do they serve as good reminders for your son or daughter regarding when to switch out the aligner, but they'll also clearly show our team whether or not it's being worn properly in the first place.