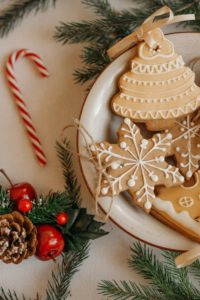 The holidays are here, which means you're surrounded by many treats and meals that will tempt your tastebuds. However, your orthodontist will recommend watching what you put on your plate to prevent food from getting caught in your braces. Not to mention, the last thing you need is a broken wire or loose bracket to interrupt the season's festivities. You don't have to worry about missing out on your favorite foods or risk an orthodontic emergency. Here are 6 tips for eating holiday meals while on your journey to a straight smile. 
1. Choose Soft Foods
There are many tasty holiday staples found on dinner tables across the country, which means you have plenty of braces-friendly options to choose from. Your orthodontist will recommend choosing softer foods to avoid damaging your braces, like mashed potatoes, cooked vegetables, baked yams, and soups.
2. Cut Your Food Into Small Pieces
Chewy meat can be a problem for braces wearers, but you don't have to leave turkey or ham off of your plate. Cutting your food into smaller pieces will make them easier to chew. If you enjoy gravy, add it to your plate to soften the meat to make it easier to eat. Don't forget to chew slowly and carefully.
3. Skip Sticky Candy
Your sweet tooth can be difficult to resist, but don't have any sticky candy, including taffy or caramel. It can get stuck around your brackets and wires, making it very difficult to remove. If you need something sweet, choose chocolate, cupcakes, or puddings to satisfy your craving.
4. Limit Sugary Foods and Drinks
Candy canes, eggnog, and cookies are holiday favorites, but indulging in sugary treats for even a few weeks can lead to cavities. It's best to limit your consumption of sugary foods and drinks. If you give in to your craving, don't forget to brush and floss after you've finished.
5. Drink More Water
Healthcare professionals recommend drinking at least eight 8-oz glasses of water every day to keep your body hydrated. H20 is also important for keeping your mouth moist to combat oral bacteria growth. It will also help cleanse your teeth in between brushing and flossing.
6. Step Up Your Oral Hygiene Routine
Chances are you're going to be snacking more often during the next few weeks. It's best to brush and floss more frequently to keep your teeth and gums healthy. Consider creating a travel-sized oral hygiene kit to make it easier to brush and floss when you're on the go.
Don't let the holidays add delays to your orthodontic journey. You'll reach your goals on time by giving your smile the attention it deserves and watching what you eat.
About Dr. Adi Davidyan
Dr. Davidyan earned his dental degree from the Tufts University School of Dental Medicine and continued his education to focus on orthodontics and dentofacial orthopedics. He is a proud member of various professional organizations, including the American Association of Orthodontists. If you need a reputable orthodontist, contact our office today through our website or give us a call at (413) 992-3234.