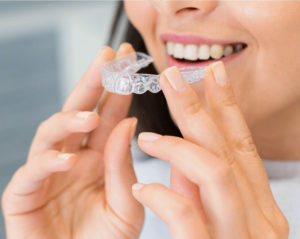 The positions of your teeth affect more than just the appearance of your smile. Alignment issues can cause bite problems that can affect your oral functions, dental health, and quality of life. Traditionally, metal brackets and wires are used to fix bad bites. While metal braces are effective, they have their disadvantages. Invisalign provides a discrete alternative using clear aligners that are worn over your teeth, but can they fix bite problems? Yes! Invisalign is a great option to create harmony between the upper and lower teeth.
How Does Invisalign Work?
Metal braces rely on brackets and wires to pull teeth into their best positions. Invisalign works differently. A series of liners are created from an impression of your mouth. Each aligner applies specific pressure to gradually reposition your teeth.
You must commit to wearing the aligners for at least 22 hours per day and switch to the next one every 1 to 2 weeks as instructed by your dentist. Although every treatment plan differs, most patients complete their series in about 12 months.
What Bite Issues Can Invisalign Fix?
Invisalign is a popular choice to fix overcrowded, gapped, or rotated teeth, but it's also a great solution for bite issues, like:
Crossbite
Underbite
Overbite
Open Bite
Although Invisalign is effective, it's not the best option for people with severe alignment problems. You'll require a consultation with your dentist to ensure Invisalign is right for you.
Benefits of Invisalign
Invisalign is a preferred choice among teens and adults because it offers several advantages not possible using metal braces, like:
Discreet: The aligners are transparent to be virtually undetectable while you're wearing them.
Comfortable: There aren't any brackets or wires irritating the insides of your lips or cheeks. Each aligner will fit your teeth like a glove, so you won't have to worry about them slipping or falling out.
No Dietary Restrictions: Invisalign is removable, so you can still eat and drink anything you want. However, remove your aligners when having anything except water.
Less Time in the Dentist's Chair: You won't need appointments for adjustments, but you'll still have to check in with your dentist, so they can monitor the movement of your teeth.
Quicker Results: The average treatment for metal braces is 18 to 24 months. Many patients are finished with their aligners in 12 to 18 months.
Easy Maintenance and Care: You don't have to worry about brushing and flossing around brackets and wires. Simply remove your aligners, and brush and floss normally. Don't forget to clean your aligners.
You can invest in your best smile using the clear choice in orthodontics. You can improve your oral health and functions while giving your self-esteem a boost. It's never too late to start your journey to a straight smile.
About Dr. Sean Willcutts
Dr. Willcutts is a board-certified orthodontist. He earned his dental degree at the Boston University Goldman School of Dentistry and continued his education for 3 years to focus on orthodontics. If you're interested in Invisalign, request an appointment through our website.