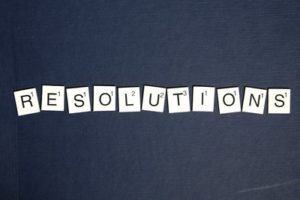 2023 is here, which means it's time to focus on your goals for the year ahead. While you might plan to eat out less or exercise more often, don't forget to place a healthy smile at the top of your priority list. Here are 5 New Year's resolutions to achieve healthier teeth and gums. 
1. Improve Your Brushing Routine
Your toothbrush is the most important tool you have at home to protect your smile from cavities. The American Dental Association recommends brushing at least twice daily for 2 minutes each session. Use a soft-bristled toothbrush and fluoride toothpaste to clean all surfaces of your teeth to keep decay at bay.
2. Don't Forget to Floss
Next to brushing, flossing is equally important. It removes plaque from between your teeth that your toothbrush can't reach to prevent gum disease. Dental professionals recommend nightly flossing to keep your gums healthy.
3. Cut Back on Sugary Foods and Drinks
If you're like many people, you probably did a lot more snacking than usual during the holidays, but now is the time to get your diet back on track. Limit how often you have sugary foods and drinks to support a cavity-free smile and a healthy waistline. If you can't resist your sweet tooth, brush your teeth after you finish. If you can't get to your toothbrush, rinse your mouth with water.
4. Drink More Water
Healthcare professionals recommend drinking eight 8-oz glasses of water daily to stay hydrated and healthy. However, your dental health also relies on H2O. Drinking plenty of water will keep you hydrated so your mouth stays moist. If your mouth is too dry, it creates the perfect environment for oral bacteria to multiply quickly. Drinking water also cleanses your mouth in between brushing and flossing to lower your risk of cavities and gum disease.
5. Schedule a Cleaning and Checkup
Besides caring for your smile at home, don't forget to visit your dentist every 6 months for a cleaning and checkup. The American Dental Association recommends seeing your dentist twice per year, even if you don't have any oral health concerns.
Preventive dentistry is proven to stop common dental issues from occurring. Not only will you preserve your smile, but lessen your risk of needing costly treatments later. Research has found every $1 spent on prevention can save up to $50 on restorative and emergency fees. Visiting your dentist is a simple solution to improve your oral health and cut your dental expenses.
It's never too late to recommit to your oral health. Achieve your best smile in 2023 by giving your teeth and gums the attention they deserve.
About Dr. Aaron DeMaio
Dr. DeMaio earned his dental degree from the University of Connecticut School of Dental Medicine and continued his education in many specialties, like orthodontics and cosmetic dentistry. He strives to help each patient achieve their best smile. If you need an appointment for the new year, contact our office through our website or call (413) 339-3078.