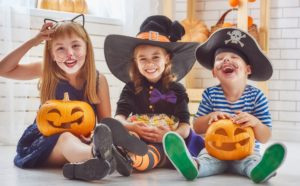 Halloween kick starts the holiday season. As your family enjoys the spooky decorations and creative costumes, your child will get to indulge in their favorite candy and sweet treats. However, you don't want Halloween to come back to haunt your child's smile. You can prevent a toothache later in the year by choosing your child's candy wisely. Believe it or not, not all candy is equal. Your orthodontist has a list of the best and worst candy for your child's smile. 
Best VS Worst Halloween Candy
Let's face it, Halloween is about dressing up and eating candy. Unfortunately, this means exposing your child's smile to cavity-causing bacteria. You don't have to say "no" to candy. Brushing, flossing, and choosing the right candy will ensure a night of trick-or-treating doesn't leave a lasting mark on your little one's oral health.
Your orthodontist recommends skipping any sticky or gummy candy, especially if your child has braces. Chewy candy will cling to their teeth and can be difficult to remove. As a result, sugar will sit on their enamel longer, giving bacteria more time to cause damage. Unless it's sugarless gum, encourage your child to choose chocolate instead of sticky candy.
Chocolate is less likely to linger in your child's mouth. Saliva will help cleanse it from their teeth, so it can be less harmful than the candy that sits in your child's mouth. As a result, you should discourage them from having hard candy, too. It must be held in the mouth for a long time to dissolve, bathing their teeth in enamel-eroding bacteria. This is also the case with sour candy. They are coated in sugar and are sticky, creating the perfect recipe for cavities after Halloween.
Promoting a Cavity-Free Smile
Besides choosing the best candy, encourage your little one to drink plenty of water while trick-or-treating. Not only will they stay hydrated, but it will keep their mouth moist and cleanse their teeth. Don't forget to have your child brush and floss their teeth before heading to bed.
Your child will probably have a decent stash of candy left after Halloween is over. It's best to limit them to 1 or 2 pieces per day. Instead of saving them for dessert, have them eat it along with their meal. Eating increases saliva production to help remove bacteria from their teeth.
You can also remove the temptation by putting their candy in the freezer for a later date or donating it to a local organization.
You can protect your child's smile from the threat of decay by keeping their oral health a priority. You and your little one won't have to worry about any bad news at their next cleaning and checkup.
About Dr. Aaron DeMaio
Dr. DeMaio achieved his dental degree from the University of Connecticut School of Dental Medicine and completed his orthodontic training at the Tufts-New England Medical Center. He is a proud member of various professional organizations, including the American Association of Orthodontists. If your child needs an orthodontist, contact our office today to request a consultation.