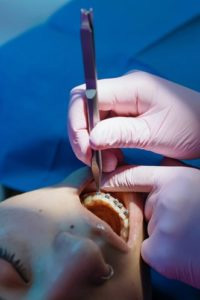 Alignment issues can come in many forms, like a minor gap between teeth or severe overcrowding. Metal braces have been the go-to solution for generations to treat a variety of bite and alignment concerns. If your teeth are mostly straight on the top or bottom, you might think you only need braces in Northampton for one arch. Although single-arch treatment is possible, your orthodontist probably won't recommend it, and here's why.
Is Single-Arch Orthodontics Possible?
The positions of your teeth affect more than aesthetics. They influence the way your top and bottom teeth come together. If there isn't harmony between the upper and lower arches, it can lead to a variety of complications, like uneven enamel erosion, jaw pain, and an improper bite. Treating only the top or bottom won't move both rows of teeth, which can change the way they rest on one another. As a result, most orthodontists don't recommend single-arch treatment using traditional braces.
Although it's uncommon, some patients can be a candidate for braces on the top or bottom. If you only need small adjustments, like fixing an overlapping tooth or closing a gap, it may be an option for you.
Aesthetics Isn't the Only Benefit of Orthodontics
Misaligned teeth are viewed as unattractive, but aesthetics aren't the only problem. Poorly aligned teeth are more difficult to keep clean, increasing your risk of tooth decay, gum disease, and bad breath. You can even have a higher risk of dental emergencies. If your bite isn't aligned, it can lead to recurring jaw pain and several other concerns.
Fixing both arches with braces will give you the confident, beautiful smile you desire while also providing many other benefits, including:
Better Oral Health: Your teeth will be easier to keep clean, reducing the likelihood of preventable dental issues, like cavities and gum disease.
Reduced Dental Expenses: You'll save money down the road because you'll be less likely to need a costly procedure to repair preventable concerns, like tooth decay.
Better Oral Functions: Correcting the positions of your teeth will also improve your bite to promote your oral function and resolve TMJ pain.
Better Job Opportunities: Research has found that an attractive smile is more appealing to employers. Resolving your alignment and bite issues will revamp your smile, which can lead to new career opportunities.
Invest in a Straight Smile Today
If you only need minor adjustments, you may also be a candidate for instant orthodontics with porcelain veneers. They can cover minor alignment imperfections without needing a lengthy treatment plan. Contact your orthodontist today to discover your options for a straight smile.
About Dr. Aaron DeMaio
Dr. DeMaio achieved his dental degree from the University of Connecticut School of Dental Medicine and pursued orthodontic training at the Tufts-New England Medical Center in Boston. He provides the latest solutions to correct bite and alignment concerns. If you're ready to invest in the straight smile you desire, contact our office today to request your consultation for braces.