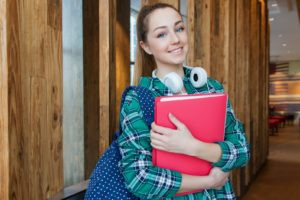 It's time for children to head back to the classroom after a fun summer. One thing will be different for your teen as they begin the new school year because they've started their journey to a straight smile with Invisalign. They'll look their best because there aren't any brackets or wires drawing attention to their teeth. However, they might have a few concerns about managing their treatment plan during the school day. Don't worry, here are the top back-to-school tips approved by your orthodontist. 
1. Brush and Floss at School
Food and plaque can get trapped between the enamel and aligners, increasing your teen's risk of tooth decay, gum disease, and odors. Not to mention, it can cause their aligners to discolor. Your teen should brush and floss after eating, even when they are at school. Create an oral hygiene kit to make it easier to keep their teeth and aligners clean when they aren't at home.
2. Remove Aligners When Eating
Your teen should remove their aligners whenever they have anything to eat or drink except water. Encourage them to form a habit of placing them in their storage case to avoid tossing their aligners out with their lunch tray or napkin.
3. Wear the Aligners Long Enough
Teens can be forgetful, but they must wear their aligners for at least 22 hours per day. Suggest setting a notification on their cell phone to remind them to put their aligners back in after eating lunch.
4. Manage Any Pain or Discomfort
It's not unusual for your teen's teeth to feel a little tender when switching to a new aligner in their series. An OTC pain reliever can ease their discomfort during the school day. Pack softer foods in their lunch to prevent any pain.
5. Drink Plenty of Water
It's important to stay hydrated, but drinking water is also important for your teen's treatment plan. Water will keep their mouth moist to limit oral bacteria growth to avoid unnecessary complications, like cavities.
6. Maintain Appointments
Your teen will spend more time in the classroom because they won't need any adjustment appointments since there aren't any wires or brackets. However, they must see their orthodontist every few weeks to monitor the progression of their treatment. Although life can get busy during the school year, make sure your teen sees their orthodontist on time.
As your teen heads back to school, Invisalign provides a convenient alternative to metal braces that won't compromise their appearance. By following a few simple tips, nothing will stand in their way of achieving their best smile discreetly.
About Dr. Aaron DeMaio
Dr. DeMaio earned his dental degree from the University of Connecticut School of Dental Medicine and continued his training in orthodontics at the Tufts-New England Medical Center. He provides the latest orthodontic solutions to create healthy, straight smiles. If your teen is interested in Invisalign, contact our office today to schedule their consultation before the new school year.